It all started with my plan to attend Hornbill festival in Nagaland. Hornbill festival has been in my travel bucket list for a very long time. This year when I managed to take few days leave from my job, my first priority was to experience the festival of festivals of Nagaland. As usual I searched for other things to do near and found Dzokhu trekking. Few days back I had seen a photo in instagram of Dzokhu valley and had noted in my mind to visit the beautiful valley someday. Thus Dzokhu figured into my itinerary. North east has always enchanted me with its sheer natural beauty and I decided to add Imphal too to the list as it was just few hours journey from Nagaland. When I came to know that a day trip can be done to visit myanmar from Imphal , I decided to explore that as well. Thus my itinerary of 11 D 12 N was made to cover Hornbill Festival, Dzokhu valley, Imphal and Myanmar.

****Day 1 – 31/11/19

Travel – Started from Cochin by Spice Jet Flight at 7.15 Pm and reached Mumbai Airport at 9.30Pm

*** Day 2 – 1/12/19

Travel – Took spice jet flight from Mumbai at 6Am to Guwahati and reached at 8.30Am. Reached Guwahati railway station in share taxi (200 Rs). The train to Dimapur was at 10.40 am but it reached station at 11.45 Am and left at 12 Pm(180Rs). Reached Dimapur at 5.30pm and got a share taxi to Kohima (450 Rs) at 6.30pm. I reached Kohima at 10pm and from there went to Kigwema, venue of hornbill festival in another share taxi(400Rs) and reached at 10.45pm.

( I took this schedule because I was working on 31st. I would suggest to reach Guwahati by evening and travel by Nagaland express which starts from Guwahati at night and reaches Dimapur in the morning. The NST (Nagaland state transport) buses charge less than 100Rs to go to Kohima. But they ply only during day time. During day time, you can also get NSt bus from Kohima to Kigwema that charges only Rs 20. It is not only economical but safe too. I had a tough time finding a share taxi to kohima at 530pm. Sun sets at 4.30Pm in Nagaland and its hard to get transportation option after 5pm. But since it was Hornbill festival time I managed to find a taxi. From Kohima my home stay had arranged taxi or else there is no option to move out of Kohima at 10pm)

Stay – Hills Home stay run By Staney – 9612888938. I booked by Airbnb and the charge was 800 per day including breakfast. If you book the place near to festival time , the charge is 1000Rs.
Other options – Rovi's home stay – 85758 26863, Lolo Home stay – 9366065643

**Day 3 – 2/12/19
Places visited – Hornbill festival(50Rs),T 100 Rs), Morungs, Bamboo pavilion
Stay – Staneys Home stay

**** Day 4- 3/12/19
Places visited – Dzokhu valley

Travel – Started from home stay in share taxi (200 RS) at 6 am and reached Viswema trekking point at 6.30 Am. Took ticket (100Rs) and the taxi dropped 7 kms higher up so that we had to trek lesser distance by foot. Started trekking at 7.30 am and reached Base camp at 11.45Pm. After lunch went down the valley. Stated at 1pm and reached at 2.15pm. Returned back from valley at 3.30pm and reached back at base camp at 5pm.

Stay – Dormitory of Dzokhu valley base camp ( 50rs for stay, 200 rs for foam mat, blanket)

**** Day 5 – 4/12/19

Places visited : Morungs

Travel – Started trekking back through Jakhama/ Zakhama route at 7am and reached Jakhama at 12pm. Took a share taxi (100rs) to home stay and reached at 12.30Pm. Eventhough my home stay was just a 20 mt walk from festival venue, hired a taxi(150Rs) with a friend to visit morungs in the evening as I was tired to walk.

Stay – Staney's Home stay

**** Day 6 – 5/12/19
Places visited – Hornbill festival(50 rs), Morungs(100 rs for tribal costume), War Museum, Art exhibition, Wood sculpture exhibition

Stay – Staney's home stay

**** Day 7 – 6/12/19
Places visited – Ima market, Imphal
Travel – Started from home stay in taxi(400RS) at 5 am and reached Kohima bus depot at 6am. Took the only NSt bus to Imphal(220RS) at 8am. The queue starts at 5.30am. Reached Imphal at 2pm.

Stay – Friends Home

*** Day 8 – 7/12/19

Places visited- Indo Myanmar border, Tamu market, Budha temple, Budha Monastery

Travel- Took share taxi from Imphal to Moreh (300 rs) and the return charge was 500 Rs. Eventhough the auto charges 500 rs to take you around budhist monastrey and temple, I saved it as I joined two govt officials from Imphal who were touring Myanmar.

Stay – Friends home

*** Day 9- 8/12/19
Places visited – Andro village, Ukhrul village

Travel – Went in friends car to visit Andro village. Started at 8 am and returned back at 12pm. went with another friend to Ukhrul. Started at 1pm and reached at 4pm

Stay- Hotel Tiptop, Ukhrul (600rs)

*** Day 10 – 9/12/19
Places visited- Shigrui village, Phangrei hills
Travel – Morning 7 am left Ukhrul and visited Shigrui and Phagrei with friend. Started for Imphal at 9 Am and reached at 12 pm. Due to Imphal shutdown stayed back at frineds place.
Stay – Friends home

*** Day 11 – 10/12/19
Places visited – Loktak lake

Travel – Since it was shutdown/bandh/hartal had to hire an auto for 1500 RS to take to Loktak. Ferry charges to reach homestay in the middle of lake is 50 Rs

Stay – Lokthak Aquamarine floating home stay – 8014921286 – 1000Rs including dinner and breakfast

*** Day 12 – 11/12/19

Places visited – Kangla fort

Travel – Took ferry to road(50 RS). Took auto to Moirang, nearest town(200RS) and then took a winger service to Imphal town (60RS). Walked to Kangla fort and back. Took share auto to airport(20Rs). Took Indigo Flight from Imphal at 3.30 and reached Cochin at 11pm.
***Trip summary***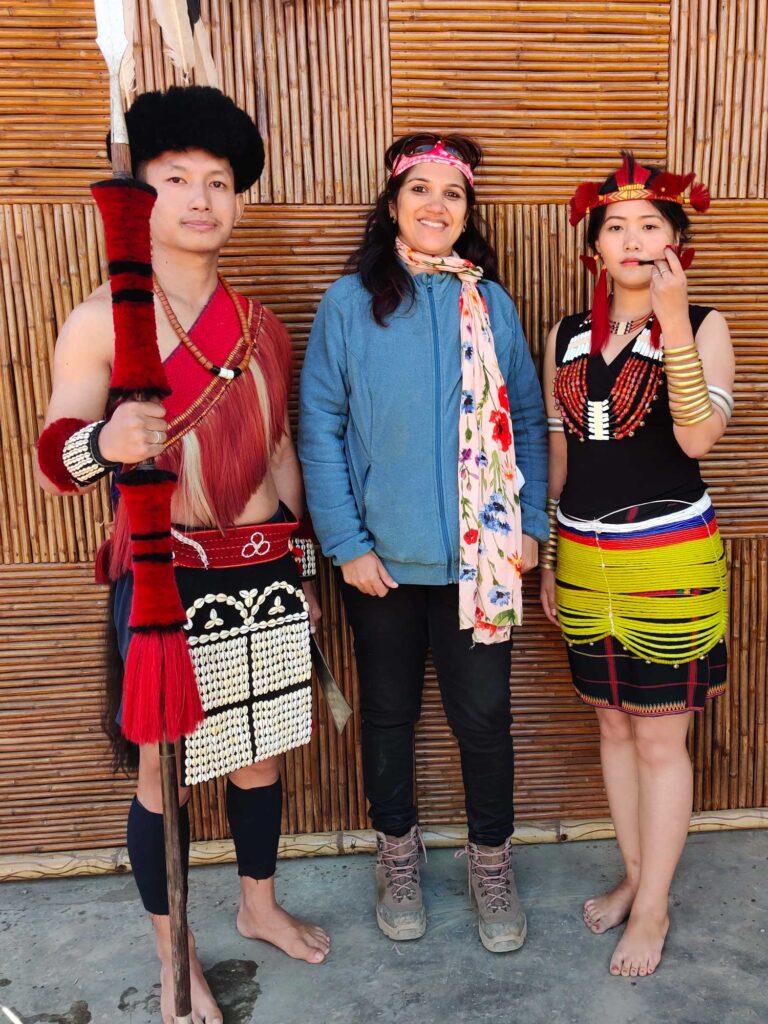 Total days – 11 D 12N
Travel cost – 4980 Rs (excluding flight)
Stay – 5050 Rs (stayed three nights at a friends home)
Food – 500 *11 =5500 Rs (average of 500 RS per day)
Other expense – 400 Rs
Total cost – 15,930Rs
I think three more days were needed at Nagaland to do local sight seeing of Kohima, visit local villages like Khonoma, Jakhama etc. At Manipur, due to 50 hr shut down I had to skip local sight seeing of Imphal like state museum, war memorial, few famous temples etc. Anyway, the trip to North east went almost as planned and I enjoyed the hospitality of people, the colours and vibes of Hornbill festival,jaw dopping vistas of Dzokhu, cuisines of Nagamese and Manipuri people, the plains and mountains of Manipur, peace and solitude of Lokthak and the new bonds that I made with fellow travellers.