"Invisible dwarfs, named Zbalu, protect us and our land. Dressed in white robes and hats, holding a stick in their hands, the dwarfs patrol the village " 92-year-old Ishe said to me excitedly. Recognizing the disbelief in my eyes, she pointed to a mountain in the distance and continued, " That's Zdongri mountain. Can you see a white spot on top of that big mountain? That's Zbalu's house."

The stories that villagers narrated were as interesting as the invisible village. On the way to Leh from Kargil, I saw a sign that read "Zbayul – the invisible village". There was a mud road that winded across the mountains. I was scared and excited together. Scared because there was a deep gorge on one side of road, excited because I didn't know what waited for me. There were no signs of village. I could only see an old multi storied building near the top of the barren mountain. At that moment, my driver spotted an old man down in the valley. We shouted from where we stood and he answered. He informed that the building we saw at the top of the hill was a museum and that he could get there with the keys. By the time we reached in our vehicle, the old man too was there. His mountain climbing ability amazed me.

"My name is Sering Spalber. I'm the caretaker of this building," he introduced himself. "This was the house of minister of the chiefdom of Henasku and it is more than 400 years old." He told us while he struggled with the keys to open the door. He gave us a tour of the house and showed some antiques kept in the museum – old vessels, horse saddles, dress etc. I asked him about the king of Henasku."It has been forty years since the king died. His daughter is now the queen. ", he replied.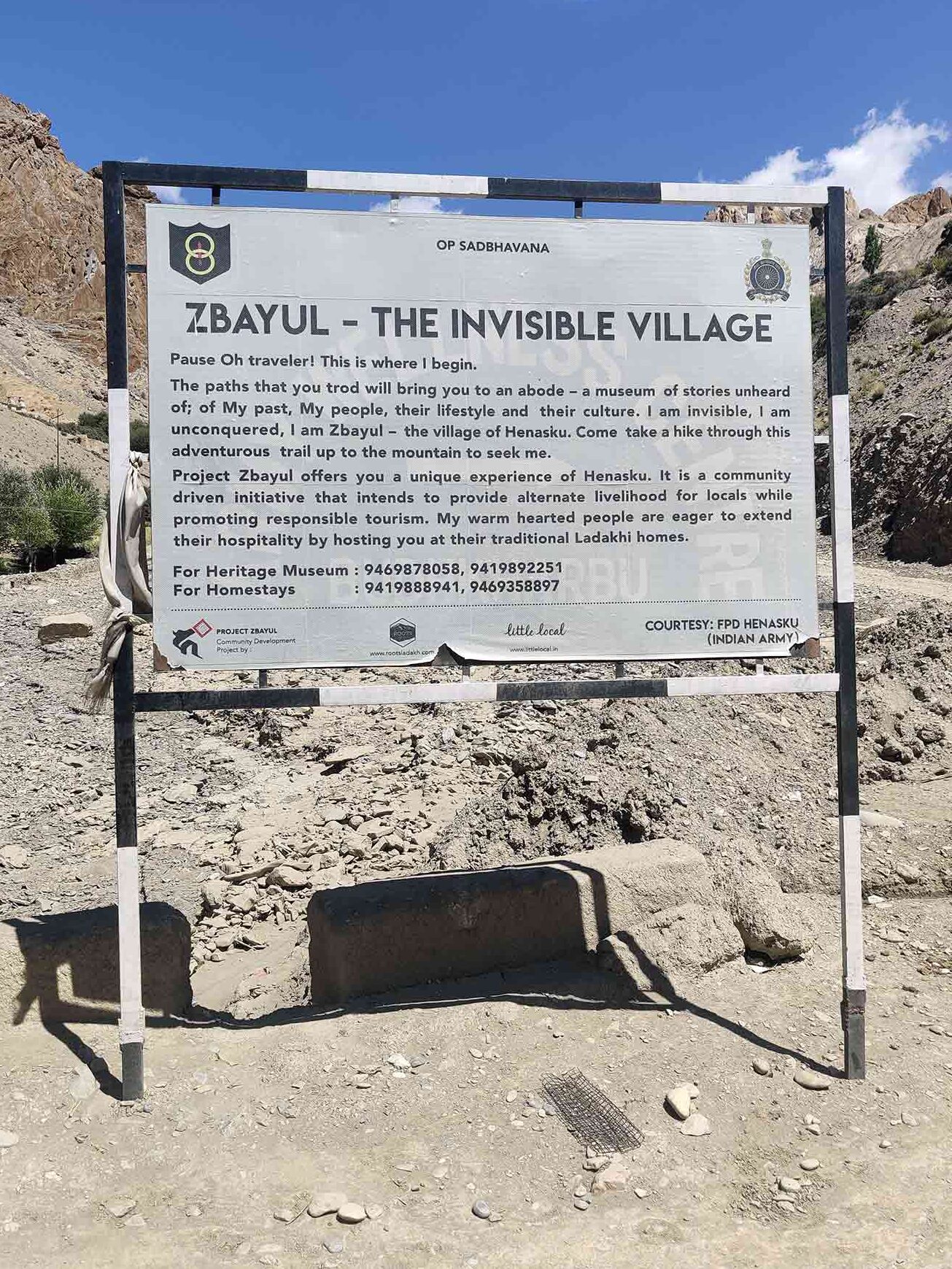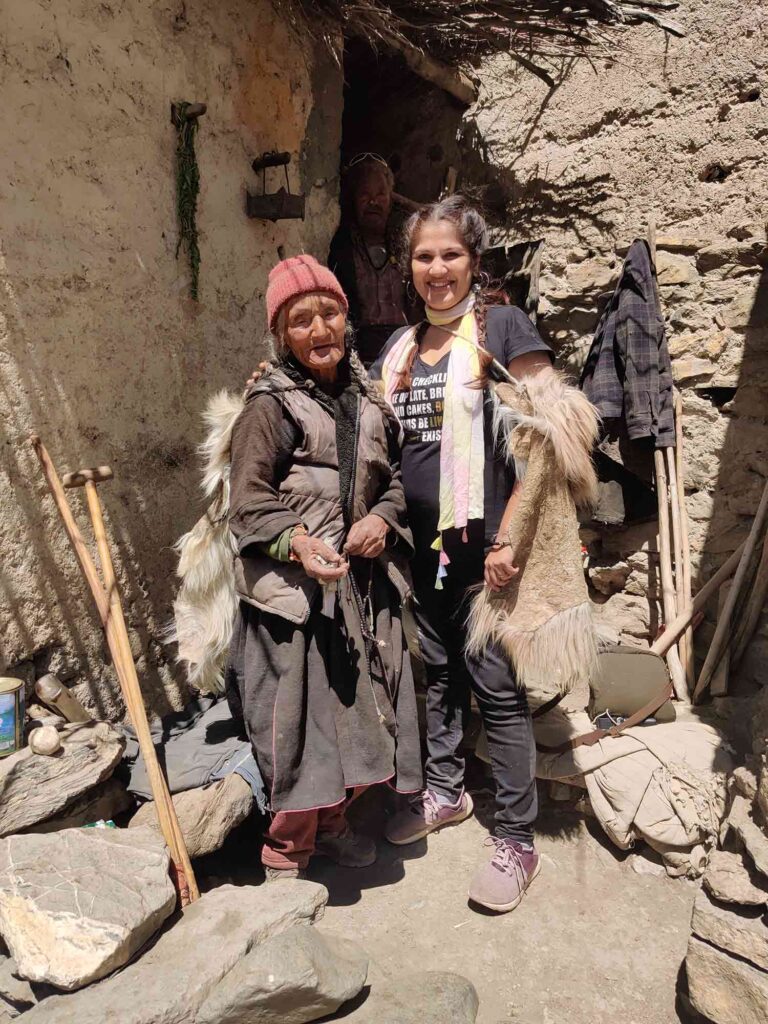 My curiosity was aroused. "Can I see her?" "No. She works in Kargil and come here for holidays." Nevertheless, I took queen's contact number from him. "Where is the invisible village?" I inquired. He asked us to follow him and walked to the top of the hill. When we looked down from there, we was a tiny village surrounded by fields. The greenery amidst the dry mountains was breathtaking. "Our village was hidden from outsiders and so it was called Zbayul in ancient times. 'Zbaa' means invisible, 'Yul' means village."
We walked to the village through a narrow path. Most of the houses were closed as people had gone to work in fields. Then we came across Ishe. She was the oldest woman in the village. I started talking to her and she told me about the invisible dwarfs. " We are self-sufficient. We make our own wheat, barley and vegetables We also raise sheep, cows and donkeys. During winter, when we cannot venture out because of snow, we knit clothes from the wool that we collected from our goats earlier". Ishe showed us some clothes that she had hand knitted. She even sang a few folk songs for us. We thanked her and left. After arriving home, I contacted Queen Agmo of Henesku. She was a very warm and friendly person.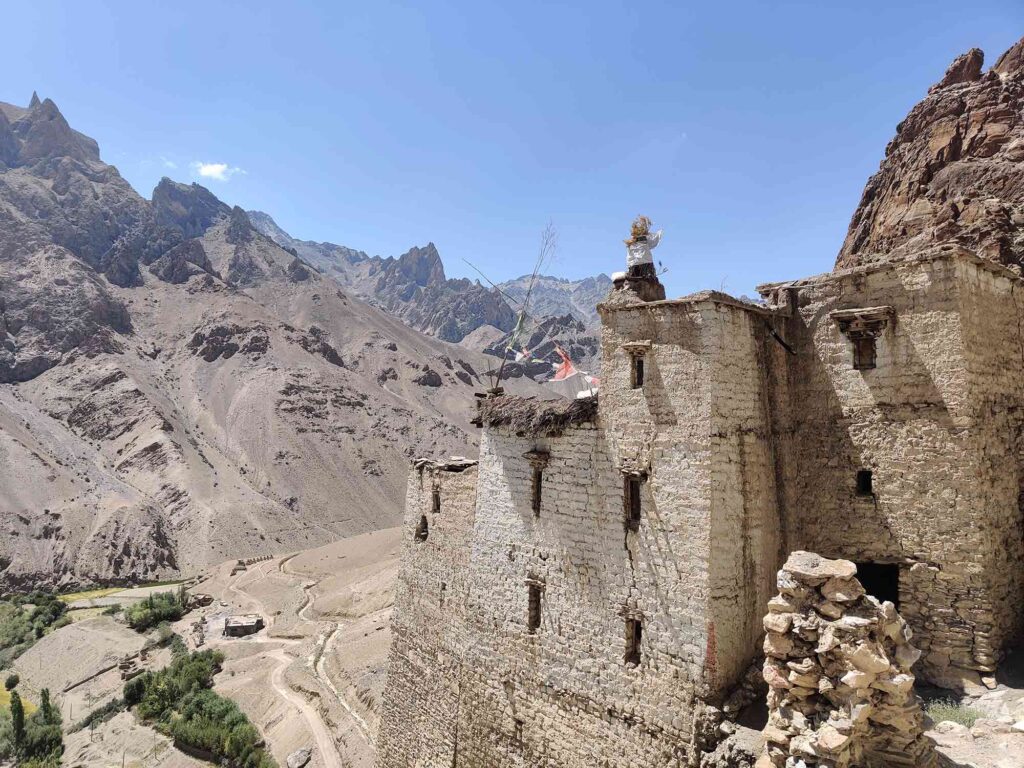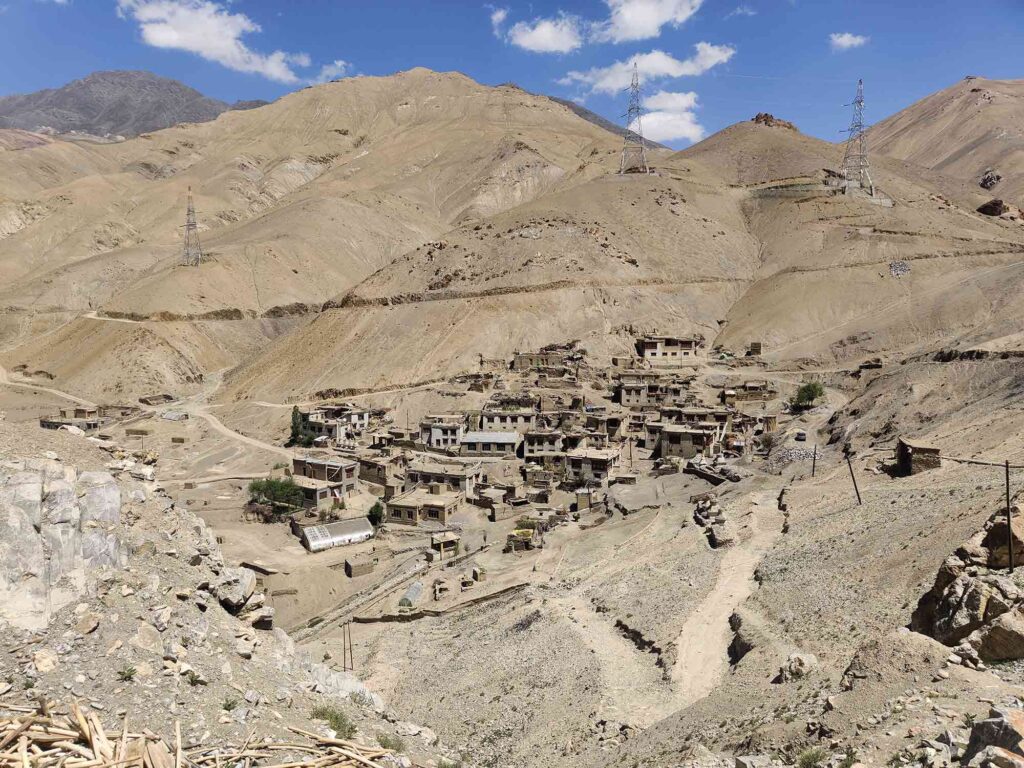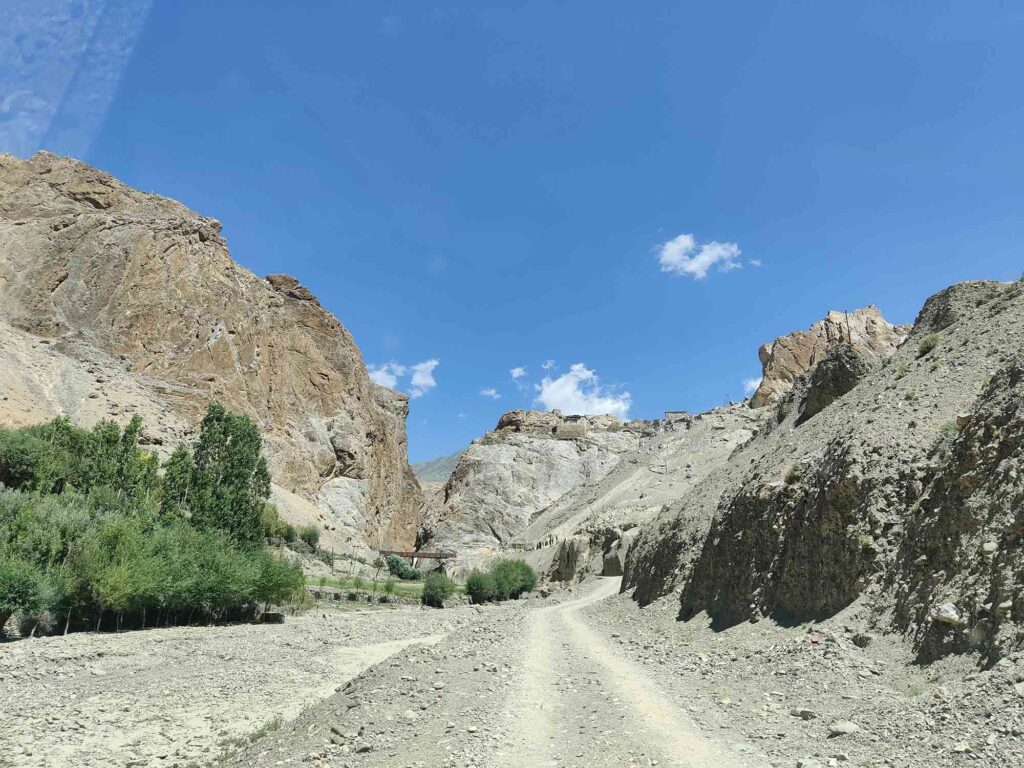 "Henasku was a town ruled by the Gapo (local king) under the Namgyal dynasty of Ladakh. All our ancestors lived in a place named Lingshed. My father didn't have any kids then. A monk told him to settle down in Henasku. By blessing of Zbayu, my father later had three children and he never returned to Lingshed. The villagers are like a close-knit family, always helping each other." Everyday life in Henasku is very difficult due to the uniqueness of the terrain. Temperatures can dip to -30 degree during winters. Summer lasts for 3-4 months only.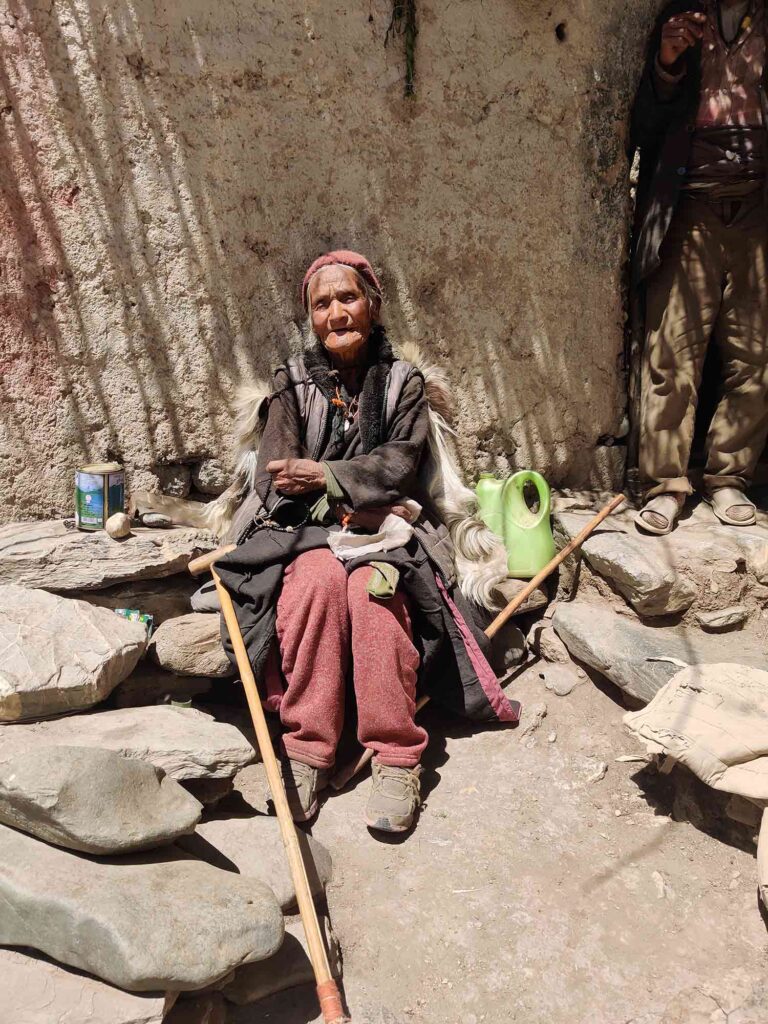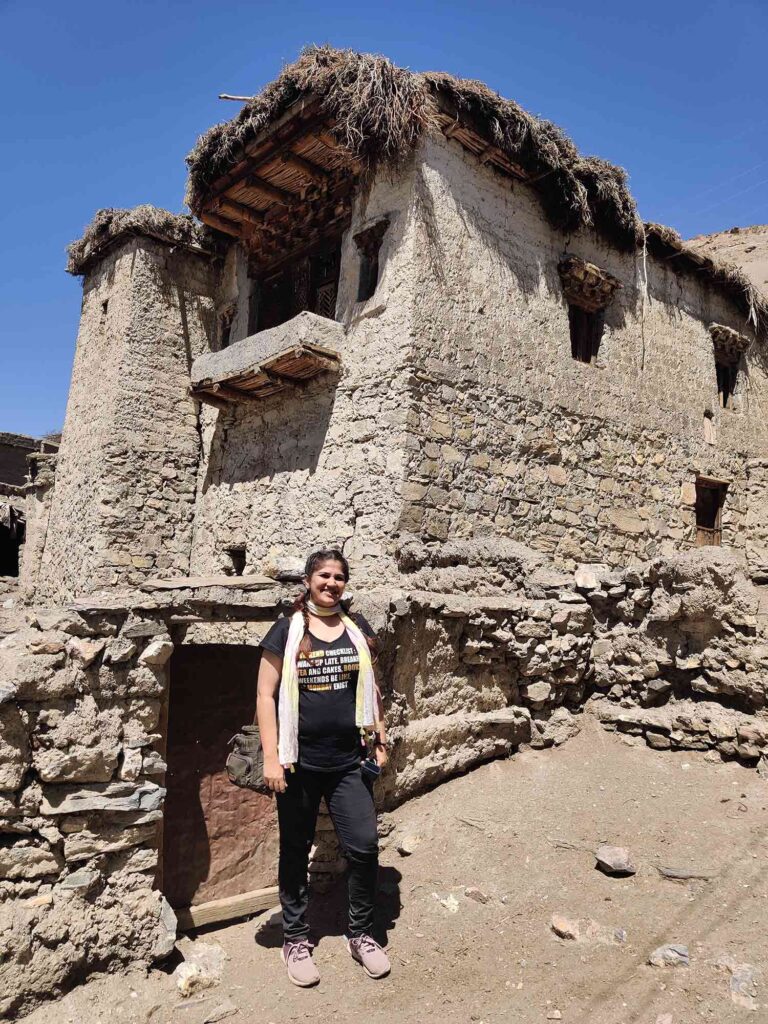 It was from her that I learned the historical significance of the village. It was a major town in the 'Silk route' a trade route that extended from India to Central Asia crossing several countries like China, Afghanisthan, Mongolia etc. The town had lost its past glory. I felt the name 'invisible village' was true both literally and figuratively.
Fact check box. – Henasku or Zbayul village is located off the Leh Kargil highway via Lamayuru. It is located at a distance of 120 kms from Leh and 60 Kms from Kargil. No public transport is available. One has to hire private cab to visit villages. There are few home stays in the village run by the villagers. Best time to visit is from June – September. The net connectivity is poor in the region. Regular tours of village are conducted by sustainable tour operators 'Root Ladakh' ( Muzammil Husssain – 8082892261)