Bali is more famous for its beaches,sunsets, and temples. But for me the most memorable part of my Bali trip was Mt. Batur sunrise trekking. I have always been intrigued by volcanoes. So, when in Bali, I jumped at the first opportunity of visiting the active volcano, Mt. Batur. Mt. Batur is famous for sunrise trek where you climb the mountain all the way to the top to get rewarded by a magical sunrise and scenic vistas of beautiful lake and lofty mountain.
Although it was my distant dream to watch the Batur sunrise I was very sceptical as I hadn't undertaken any trekking after 2011 when my knee ligament got injured. Anyhow, decided to give it a try with Ninnu, my student who is working in Bali. Mt. Batur trekking is organised by trekking team in Bali. Trekking cost is 2500 rs per person. A group of 6-7 members have a local guide with them.
We were picked from Ubud at 2.30 am. After collecting rest of team members, we reached the Toyabungkah village at the base of Batur at around 4 am after driving for nearly an hour. We had tea from a local shop. Just before we started our trek,we were given a torch, our packed breakfast ( two pieces of bread, a banana and a hard boiled egg) and a bottle of water.
It was pitch black outside and the path was not visible. Only the part lit by our small torch was visible in front of us. In one sense it was good because had I seen the mountain in day light I would have never dared to climb it. I could see a long line of torch behind me. In the darkness I could neither make out how much I climbed up nor how farther I had to climb.
Guide was very considerate and gave us ample rest in between.Rocky terrain was very unstable and I had to be very careful about where I set my foot. At many places I had to crawl and scramble because climbing was just not possible. As we climbed higher and higher, I started losing my motivation and was starting to feel exhausted. But Ninnu, supported and motivated me to keep climbing.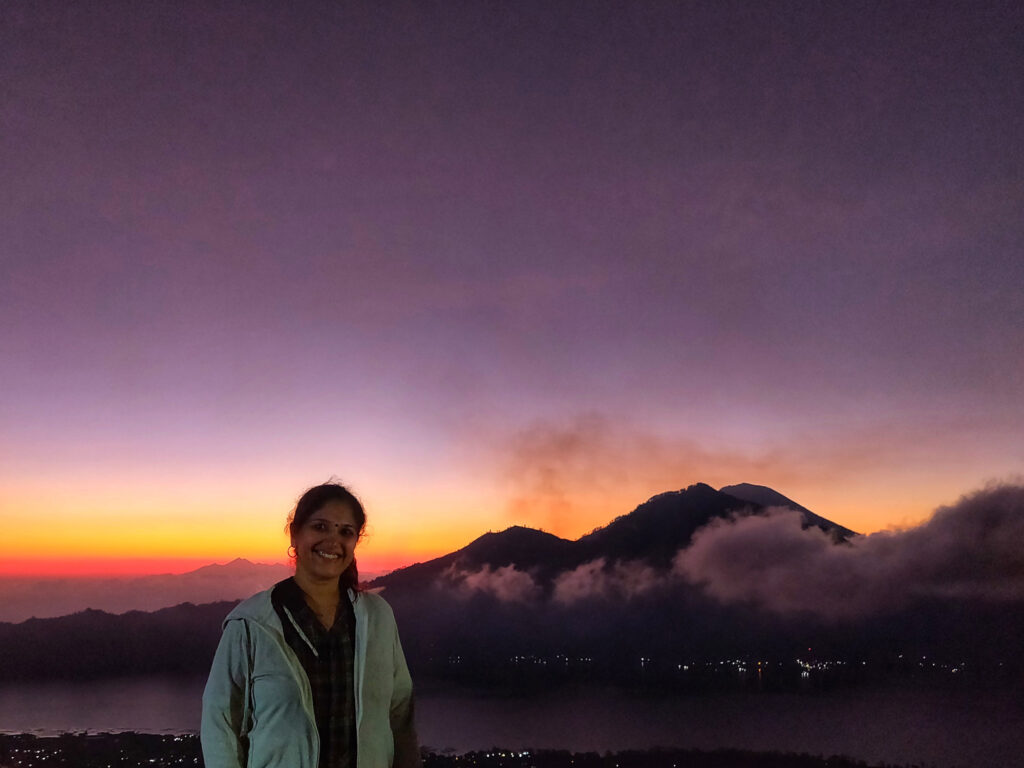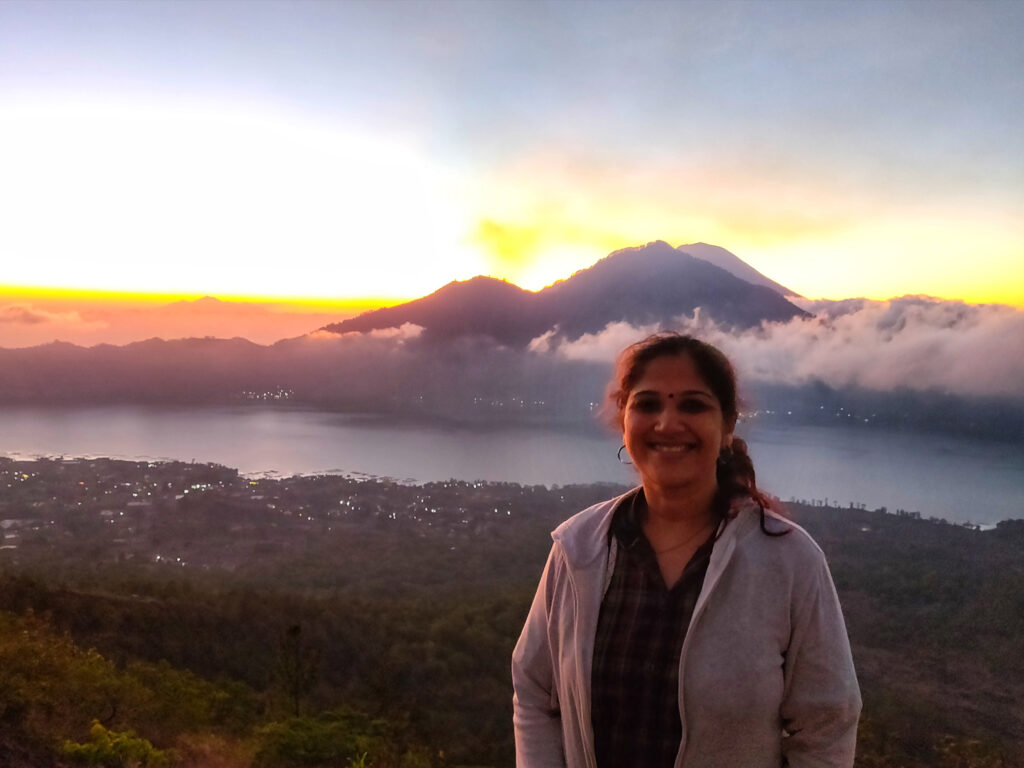 At around 5.30 am I could see a strange orange glow far away and a silhouette of Mt. Agung. I was filled with renewed energy at this sight and started climbing faster. I was also afraid that I might miss the sunrise if I continue my slow pace. At 5.45, I reached the summit and was greeted by the most blissful view in my life.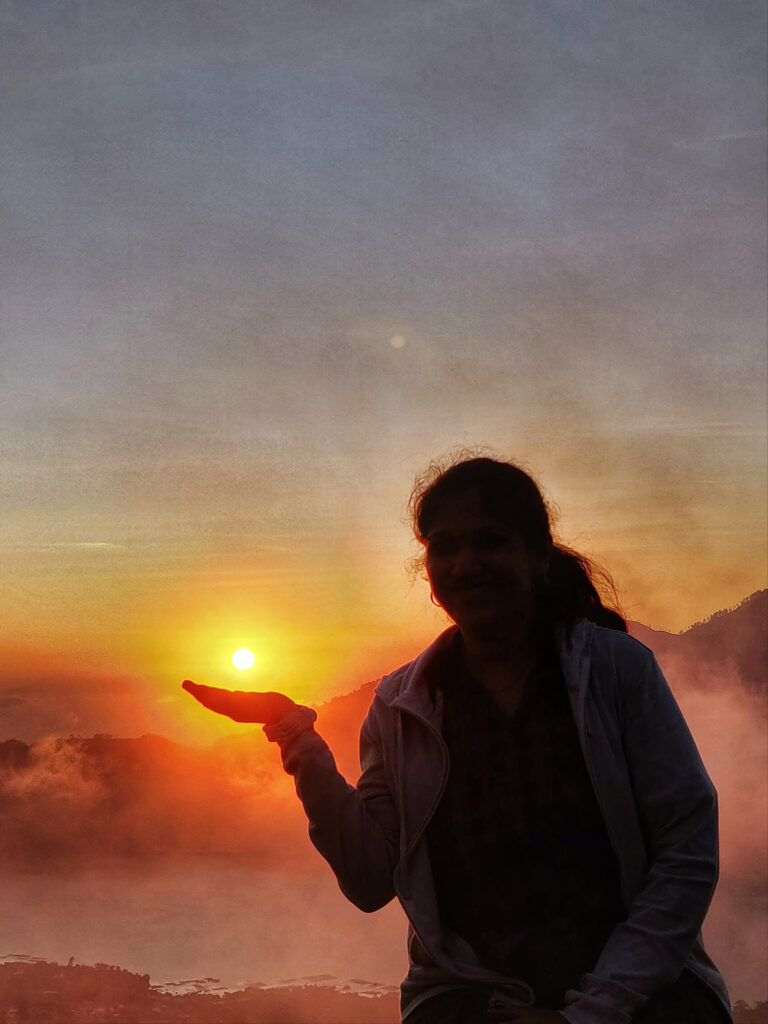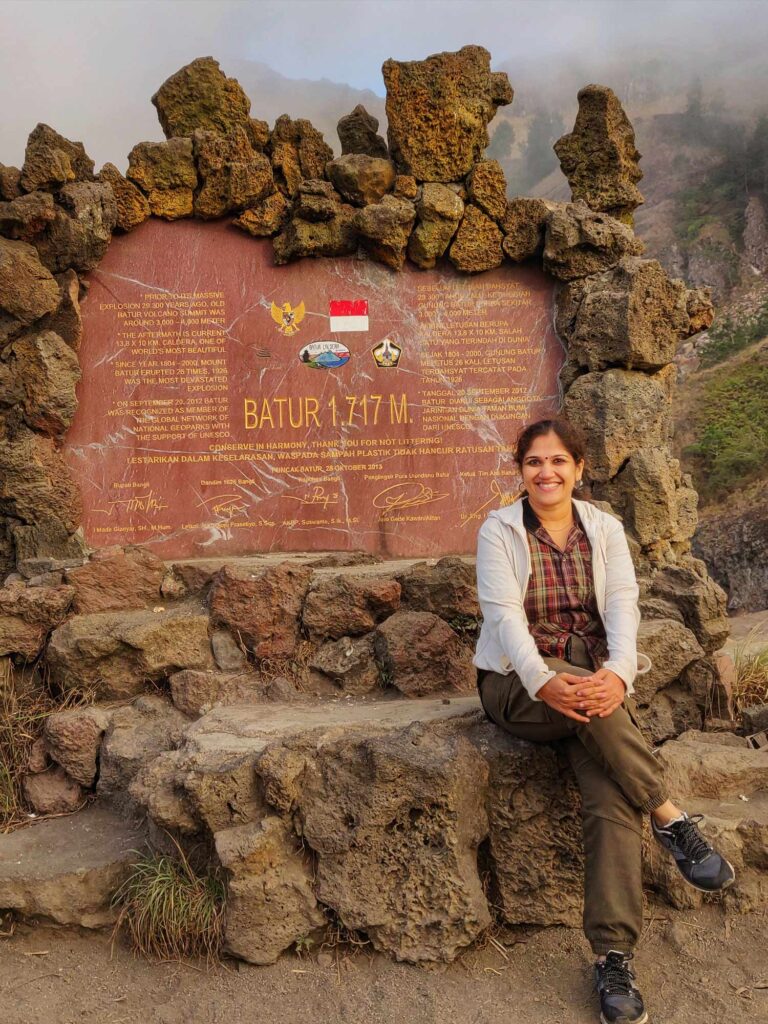 In terms of time, hike was short but the steepness and extremely rocky surface posed a great challenge. I was exhausted by the trek. But the joy of reaching the top well ahead of sunrise lessened my misery and like others started searching for the best spot to view the sunrise.
The darkness was slowly getting replaced by orange and golden rays from behind Mt. Agung. In spite of the fact that there were more than fifty people, there was absolute silence as people held their breath and waited for one of the best moments of their life.
To our chagrain, thick clouds obscured our vision and we missed part of the sunrise. Luckily, clouds got cleared soon and we could see the sun rising over the majestic Mt. Agong. Nearby we could also see the beautiful Lake Batur, glistening in the morning light. The view was really spectacular.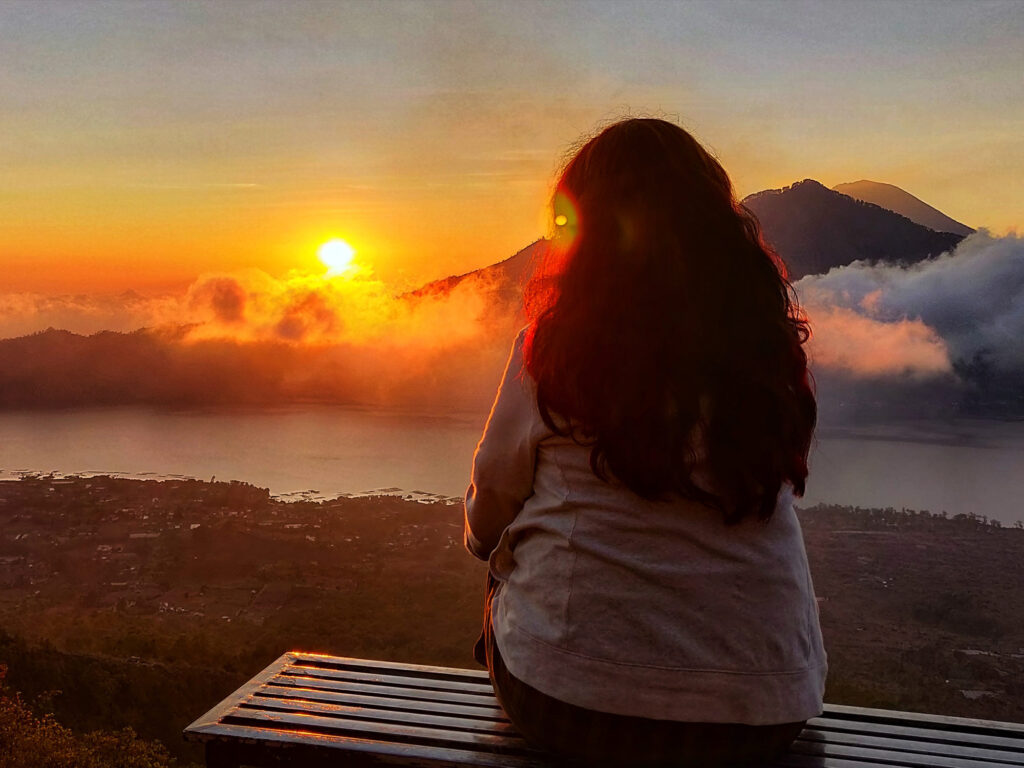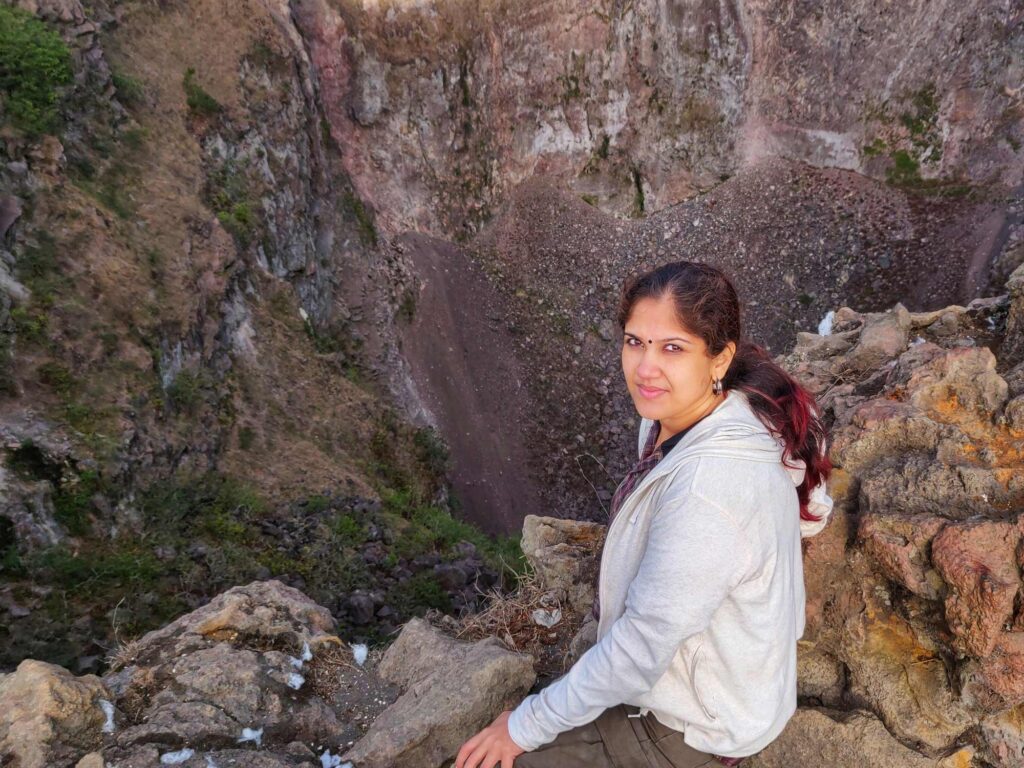 I felt proud of myself for being back in action after 6 years. There was a time in my life when I couldn't climb even stairs in my college because of knee problem. Doctors had told me to avoid all kinds of strenuous activity with knee as things would only get worse. But I was not yet ready to give up my active life. So, I put in long years of conscious effort to reduce weight and strengthen my knee by exercise. Finally my efforts paid off. Standing at the peak of Mt. Batur, I remembered with gratitude all people who motivated me in my lifes's journey.
I felt great inner peace sitting there watching the rising sun. I absorbed the serenity surrounding me with all my senses. I sat on the bench for a long time. After the sun was out, we decided to have a look around. We walked 200 metres ahead to reach the volcano crater. It was last active in the year 2000. A deep crater was visible. Fumes appeared from below. At this point, we could also testament the fact that we had climbed the 1,717 metre volcano.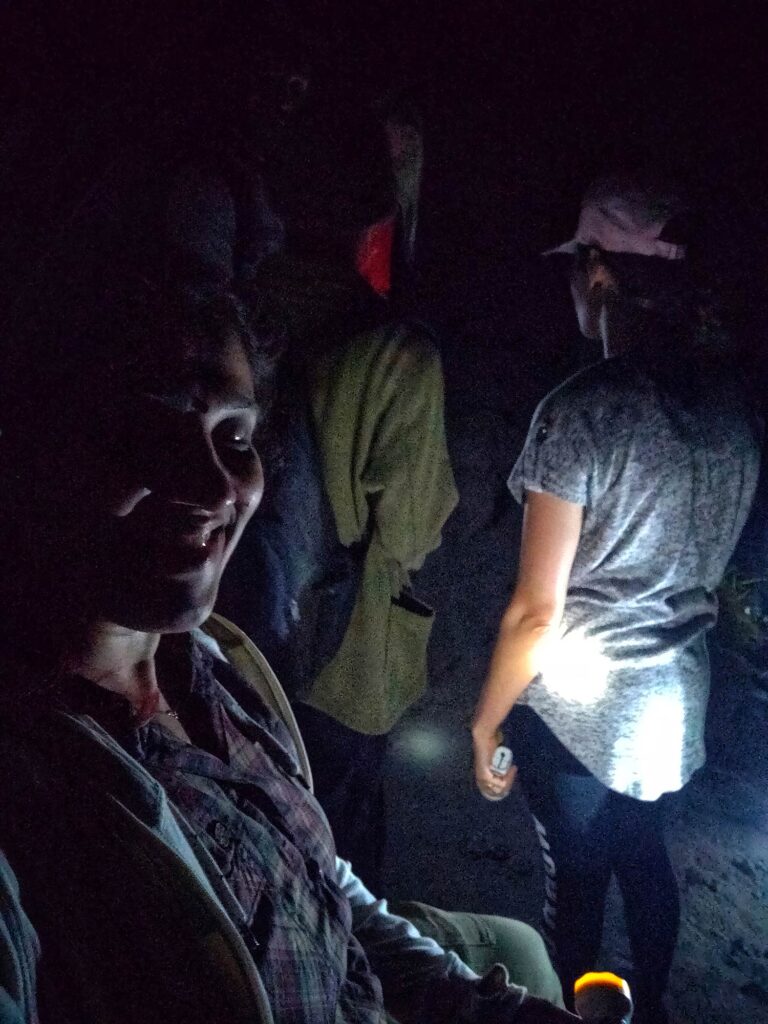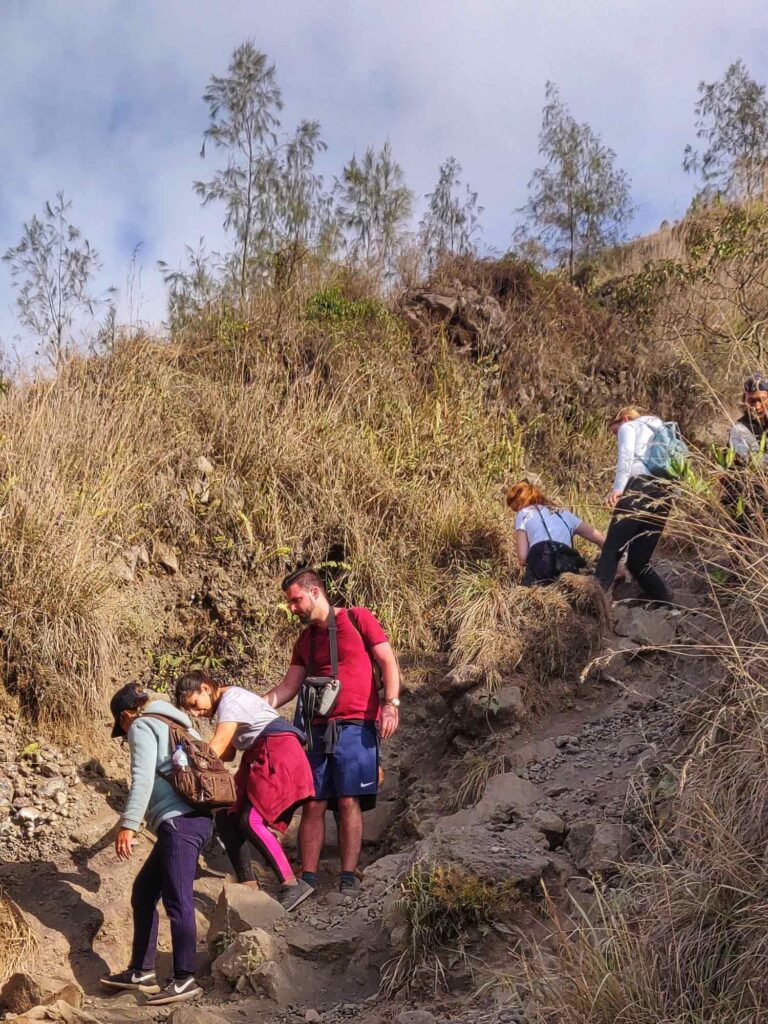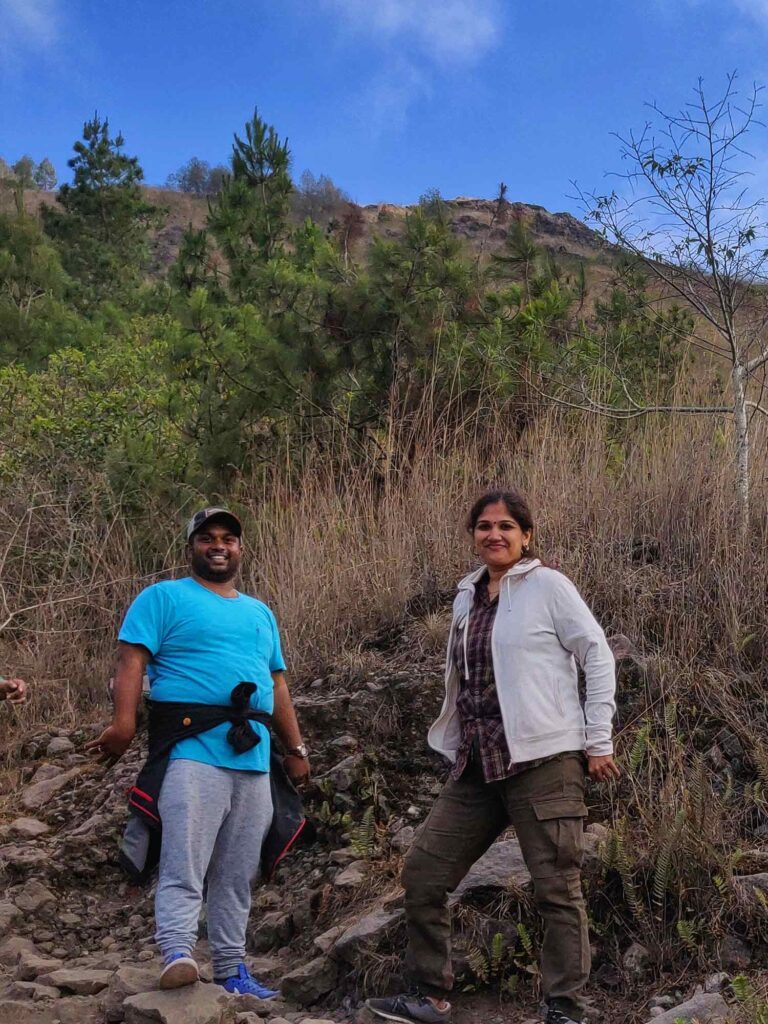 We spend around one hour here as some of our team members had gone further ahead. We started our journey back around 7.20am. Descending the hill was just as difficult as going up as the tiredness will really start to catch up. Also, it is very easy to lose your footing as the way down was very uneven. It was only on the way back that I realised the gravity of situation. Steep descent made me chicken hearted at many points. Entire route was covered with loose volcanic rock which was very slippery and needed great care while descending. Many times I slipped but was lucky enough not to fall.
Our guide Eddy was a local. When we found it difficult to come down the mountain even with all the cells in our body alert, this guy was watching video in his mobile while descending. It seems this trek was a part of his daily routine. He brings people daily for trekking. It was a big relief to finally reach back at the base by around 8:30am.
Our trekking team was a mix of people from all over – Canada, California, Australia etc. We reached back at Ubud by around 10.15 Am after a brief stopover at Coffee Luwak farm enroute. I felt indebted to Ninnu for the Mt. Batur trek. If he hadn't agreed to accompany me, I would have dropped the idea as I would never have had the confidence to undertake this early morning trek alone.
Trek was unlike any others I have attempted in my life mainly because, its an unique sensation to trek over rocky mountains without seeing the final destination. In terms of difficulty too the trek was very challenging. But the astounding view of sunrise was worth every step. Mt Batur trekking is a sweet reminder of the quote ' The harder you work for something, the greater you will feel when you achieve it'. If you are planning a visit to Bali, don't forget to include Mt. Batur in your trip. Trust me, this would be the highlight of your Bali trip