Demons of Dodagadavally temple
Yes! You can see betalas(demonic creatures) in Dodagadavally Temple in Karnataka. When I was a child , I loved to read stories of Vikramaditya and betal. But I was shocked to see a naked Betal , that too taller than me standing with his bulged out large eyes, hanging long tongue and protruded ribcage. More shocking was the sight of what he was holding in his hands – large sword in one and slain head in other! Gross to see that in a temple.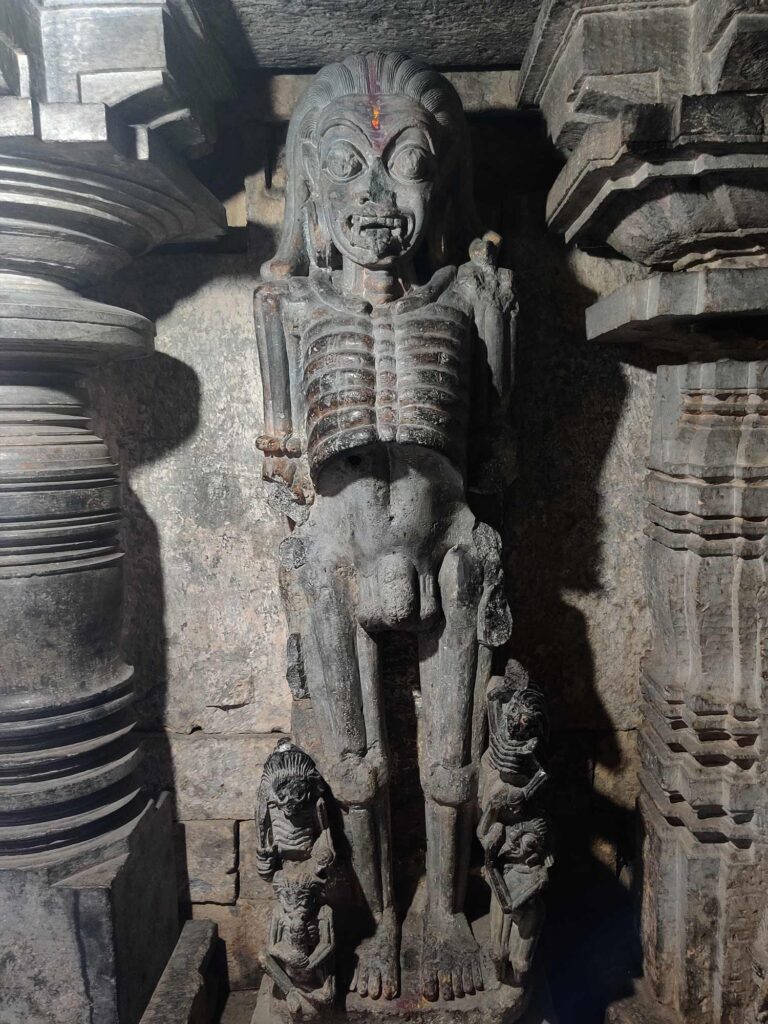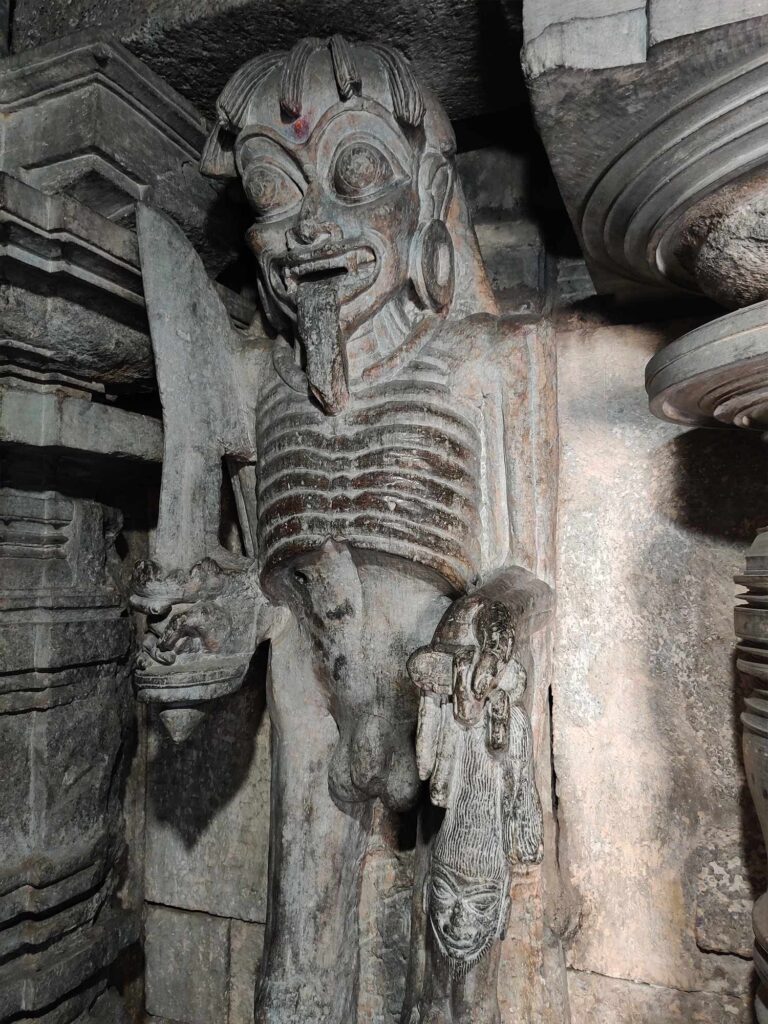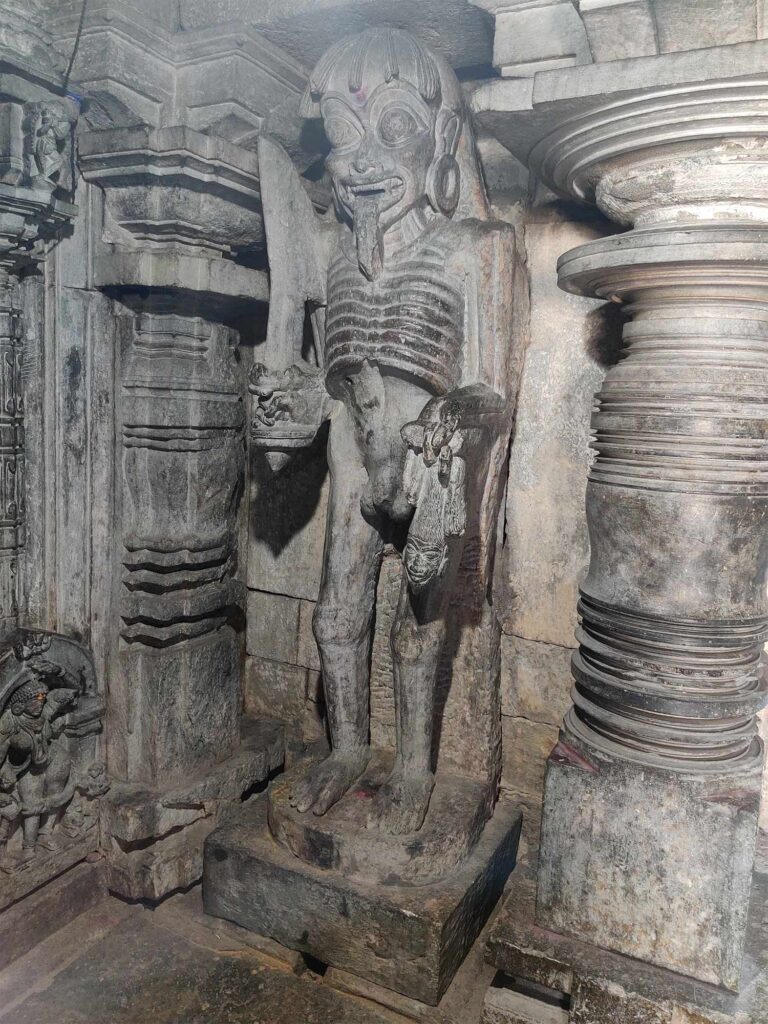 I didn't know about the betalas when I decided to visit Dodagadavally temple. I had planned to visit the temple near Hassan , to see the 'chathushkuta' architecture style of Hoysalas. The temple had a single platform on which four temples stood, each with separate shukanasi and garbhagriha but a common hall. This was the only temple that has been discovered which exhibited chathuskuta style. Another thing that arouse my curiosity was that most of the Hoysala temples were dedicated to Vishnu or Shiva or one of their forms. Here the temple was a Lekshmi temple!
I was on a solo drive across Karnataka. After visiting Coorg, Belur, Belavadi and Halebidu, I was on my way to quiet town of Melukotte. Temple lies midway between Belur and Hassan. I had to take a deviation from the main road, travel two kilometers on village road to reach Dodagadavally village.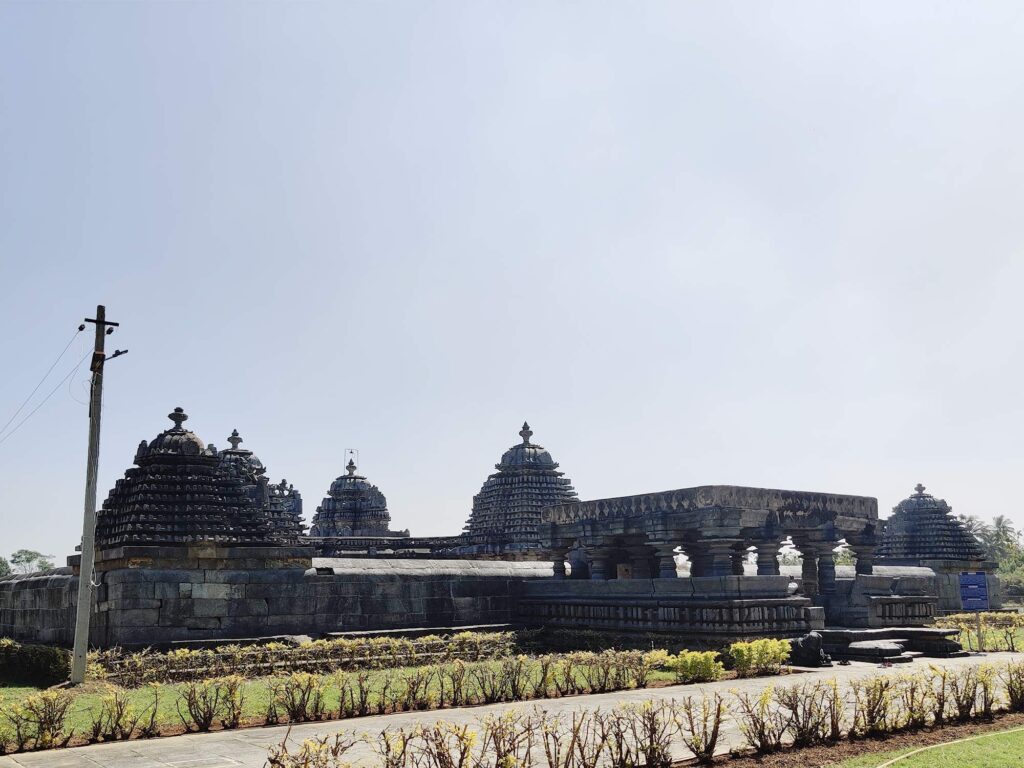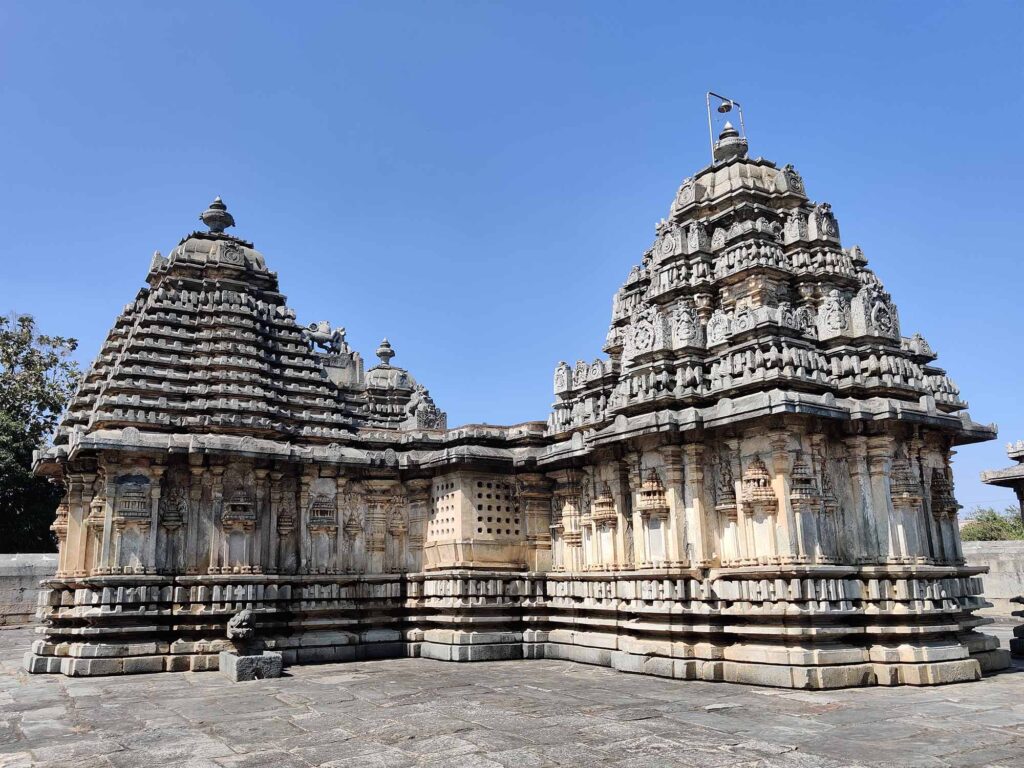 Temple was located on the banks of a lake and reminded me of the Bali water temple Ulundanu. From the road I could see the temple gopuras. The temple was built in 1114AD using chloristic stone also called soap stone. The entrance to temple was on eastern side. There were 16 lathe turned pillars in the small hall adjoining the entrance. Lathe turned pillars are a feature of Hoyasala architecture . The seven foot tall wall around the temple obscured the surrounding sights. Wall on each side merged with the wall of small temple at the corner.
On the gopuras of these small temple there was the hoyasala symbol of a boy fighting with a mythical lion like creature. Main temple was located at the centre of the compound. Unlike the later Hoysala temples (like the ones in Belur and Halebidu). This temple was not built on a jagathy or raised platform. Four temples in four directions were connected to a common hall.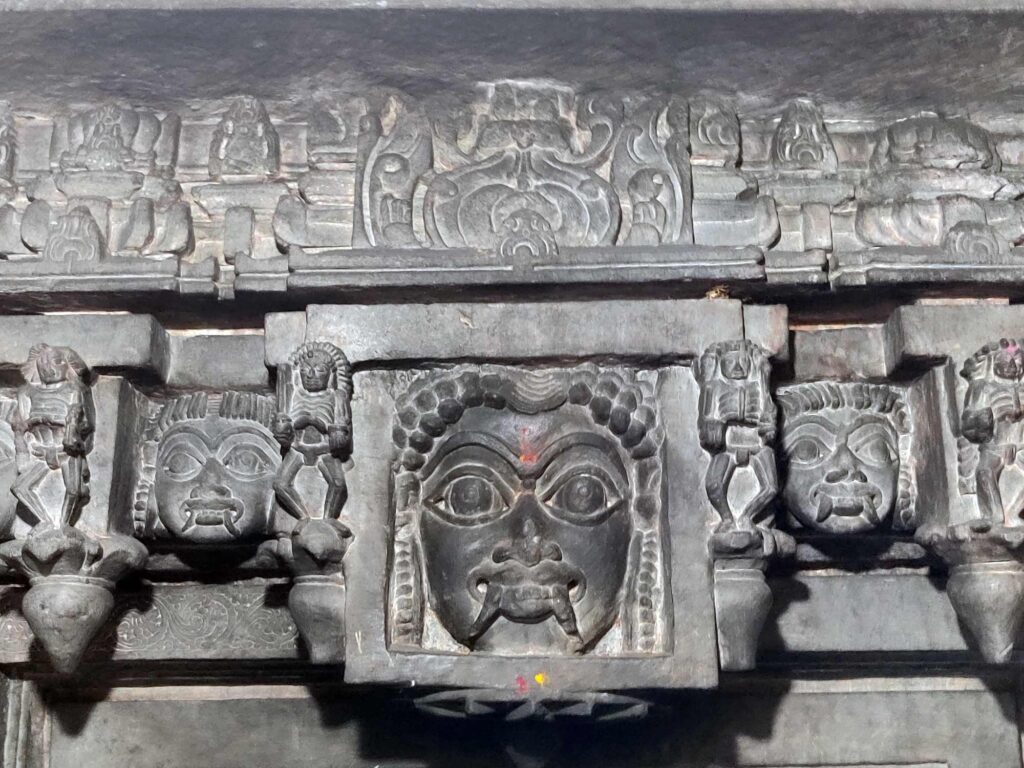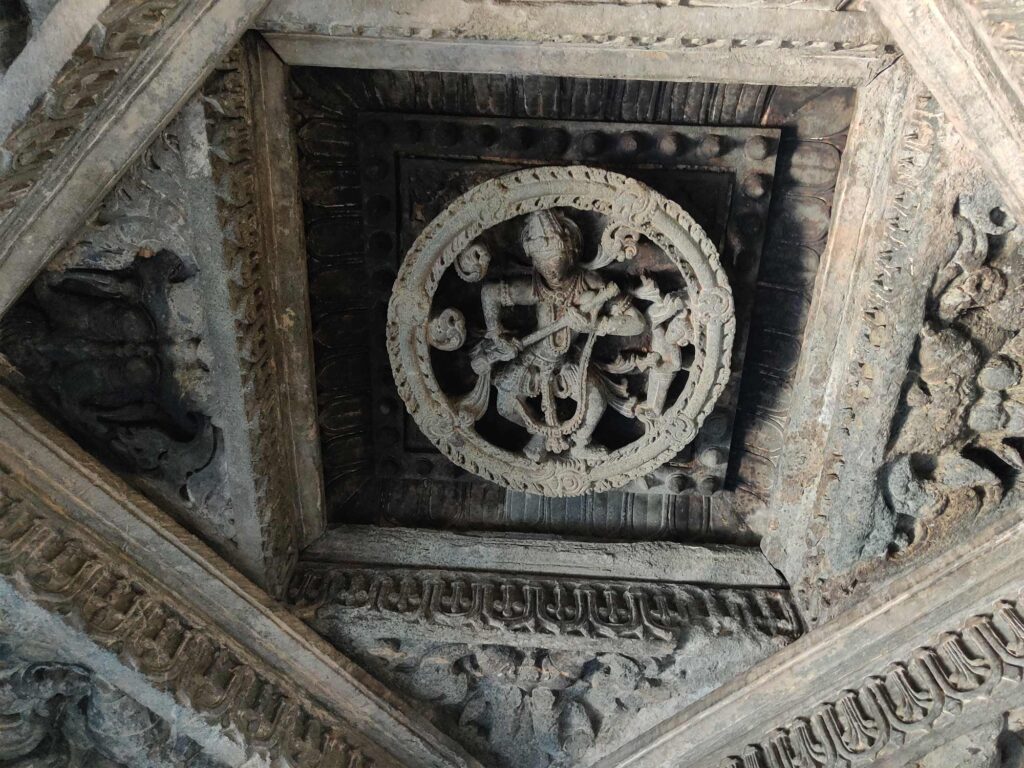 Each temple had beautiful pyramidal gopuras. I entered through the small door on the eastern side and found myself in a narrow dark corridor. It was when I turned left that I found the scary betalas. Never did I expect to see such a sight in a temple and I was totally shocked. There were two standing facing each other. Opposite to the one I described earlier stood another betala equally sinister looking but its hands were mutilated. There were tiny skeletal forms at its legs. They were actually the guards of Kali temple.
Above the entrance of Kali temple there were five carved faces of Kali and between each face there was a skelton. There were figurines of Nagakanya and Vishakanya on either sides of door. I felt like I was watching a scene of horror movie.The temple was actually commissioned by a rich merchant Kalhana Rauth. His wife Sahaja devi patronized Kali and so the Kali temple was built in this complex. Unfortunately, few days back some miscreant had pushed the idol and broken it and so temple was closed down temporarily. At the other end of corridor was a small hall and into the hall opened three temples – Left was Lakshmi devi temple, straight ahead was Vishnu temple and on the right was Siva temple.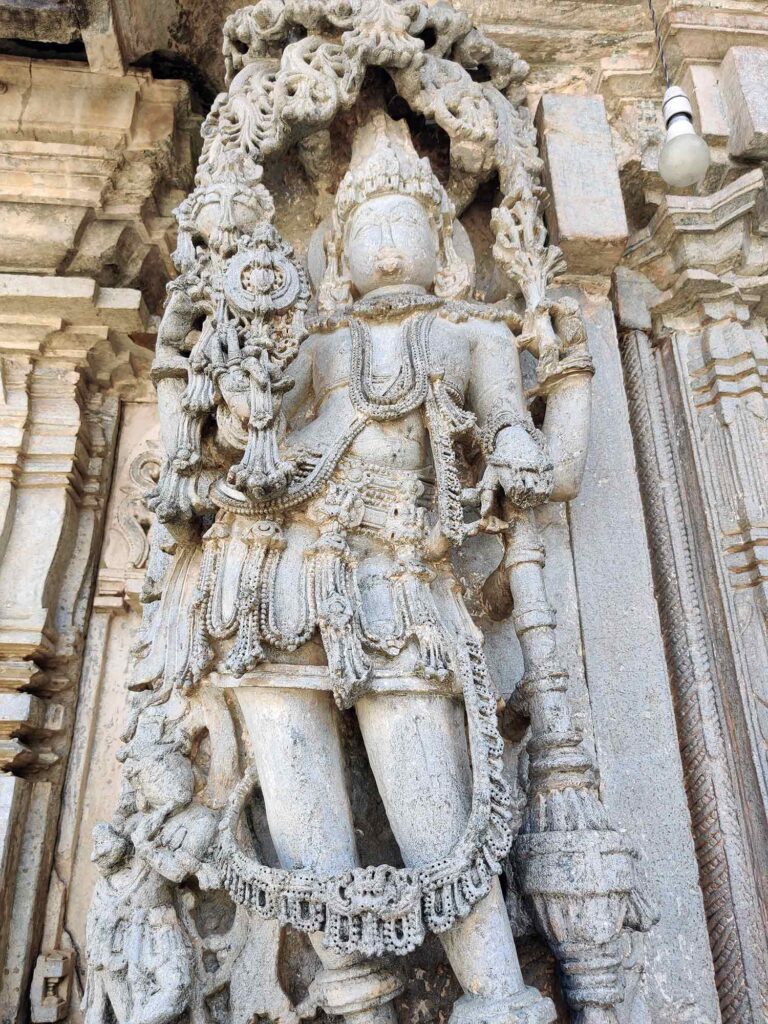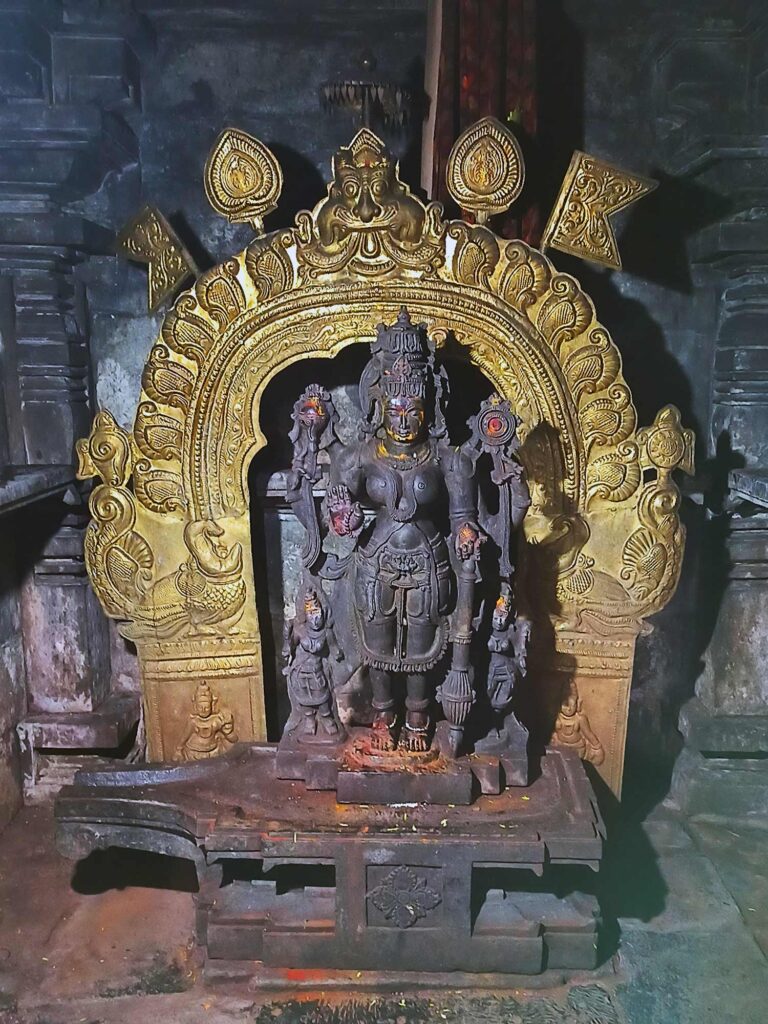 Another interesting fact is that opposite to Lakshmi was Siva and opposite to Kali was Vishnu. Usually Vaishnava shrines faced each other. Here Vaishnava shrine was opposite to Shaiva shrine ! The Lekshmi idol is special because here the Lakshmi is in a standing position. She has four hands that holds rosary beads, conch, club and disc. Story is that Kalhana Rauth was attracted to the Lekshmi temple in Kolhapur and built similar one in Dodagadavally . Hence the temple is also called Abhinava Kolhapur.
Sivalinga in the siva temple was placed over a raised platform. There was a statue of Nandi, the bull opposite to the idol. Idol in the Vishnu temple was stolen and hence the archeology department has put statue of Kalabhariava in place of Vishnu. Above the entrance , there is a carving of yoga Narasimha. The roof of central hall had beautiful carvings of Indra riding on Airavatha, Yama on buffalo, Kubera on horseback etc. But The most attractive among the roof carving was the carving of Siva performing Rudrathandava, a dance form. He was holding rudraveena in his hands. Exterior of the temple was decorated by beautiful sandstone carvings. It was surprising that most of it was intact. On the western side of temple , there is a temple of Kalabhairava decorated by demonic figures. There were many inscriptions in old Kannada lipi at many places.
Though it was a small temple , I found many unique things here. I wished to see the Kali idol. After returning I kept searching in internet for a good picture of Kali. I was fortunate to meet the renowned historian Kukarniji It was he who send me the beautiful pictures of the idols of Lekshmi and Kali of Dodagadavally temple. He further enlightened me about the eight handed Kali idol. According to him, the Kali idol here is shanthaswaroopa Kali. She is at peace after killing the demon Shumbhanishumba and she is infact standing on his dead body. He further told me that the 20 inscriptions found in the temple clearly mentions this as Devi temple. But the villagers were more fond of praying to Kali and conducting animal sacrifices and hence in later years the temple came to be known in the name of Kali.
Eventhough I had visited the majestinc temples hoysala temples of Belur and Halebidu, it was this tiny temple that gave me an unforgettable experience and became my personal favourite.